Dublin New Years Eve 2018
Countdown Concert, Events, Parties, Hotels, Restaurants
Dublin, Republic of Ireland, 31 December 2017, Midnight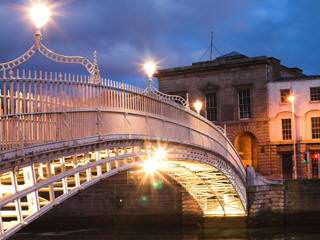 Dublin is a city that embraces a good party at pretty much any time of year so New year's Eve here is really just another excuse. In recent years they've really raised the bar though, with the NYE Dublin Festival holding a series of special events to provide entertainment for all ages.
I've never been to Dublin at new years, but from visits at other times of year I can vouch for the friendly welcome you're sure to receive, and with so much going on it certainly seems a great option so see in the new year.
Dublin also embraces the New Year with a New Years Day parade, organised in honour of the Lord Mayor. For more details of this event see our New Years Day page.
New Year Fireworks, Events, Parties
There were several major events in Dublin on last year - The Countdown Concert, Spoken Word Festival and The Luminosity Light Show. are all taking place on December 31st, although sadly we once again had to make do without an official St Stephens Green midnight fireworks display.
The details below are still relevant for last new year's eve, we'll update with the 2018 new year schedule as soon as it's available.
The Dublin Countdown Concert returns again this year to help see in 2018. Takes place this year back at the iconic Dublin new year venue of St Stephen's Green. Tickets for the Countdown Concert to follow.
Sky Dance at The Custom House is a new addition to the new year's eve celebrations, a free event taking place at the Custom House Quay from 5-7pm and including a stunning performance or airborne dancing and gymnastics.
In the probable absence of fireworks, the main visual spectacle again looks set to be provided by Luminosity, a series of 3D light projections illuminating the city from 5pm each evening on the 30th December - 1st January. The most spectacular projections are on large iconic buildings such as the city's famous Custom House.
We are also promised this year a series of pop-up events throughout the festival, so be prepared for surprises in and around the city over the new year period.
There is a new website for the Dublin new year events this year, which has been rebranded as the New Year's Festival - get more details on all the official NYE Dublin events here
if you're looking for new year dining options then Dublin offers plenty of choice, from fine dining to a wide range of kebab and burger joints! Top recommended restaurants include the Pearl Brasserie, Sabor Brazil, The Vintage Kitchen and Rustic Stone. Veggie options are limited, but you will get a decent vegan feed at Umi Falafel. See the full range of Dublin restaurants, with customer reviews and online booking options, here.
NYE Live Streaming, Webcams
Places to watch live online:
Last year there was live TV coverage of the Countdown concert via RTE, if this is the case again this year it should be available to watch online via the RTE Player
For those living overseas there is an international version of the RTE Player but it's not certain a this stage whether or not it will be carrying the new year coverage; RTE International
New Years Eve Hotels
For reservations and online availability of Dublin hotels, visit local hotels here.
Popular Pages
The content on this page is written and maintained by Martin Kerrigan. If you have found it useful then please feel free to share it with your friends and family. If you have any comments or events to add to this page please Contact us.