Dubai New Years Eve 2017
Fireworks Live Stream, Events, Parties, Hotels, Restaurants
Dubai, UAE, 31 December 2016, Midnight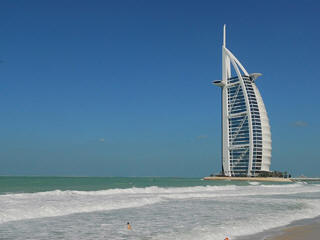 Dubai is a place that likes to be at the centre of attention, so when New Years Eve comes around you can guarantee they'll be looking to throw the biggest, most eye-catching party in the area, and hoping to catch the eye of the world. They have the perfect centre piece for the celebrations with the dramatic and skyline dominating Burj Khalifa Tower, and this is the focal point for the midnight fireworks display that can be viewed right across the Emirate.
They have faced increasingly stern competition from near neighbours Abu Dhabi in recent years as the competition to be seen to host the most impressive and extravagant new year parties, and attract the biggest name performers (recent years have included shows by Snoop Dogg, Faithless and Armand Van Helden) and celebrities hots up, but it's likely this will only drive them to greater efforts so you can expect to see more and choices when it comes to thing to do over NYE in Dubai.
Dubai has also been boosted in the new year party stakes by being voted as the trendiest new year eve destination anywhere in the world by popular travel website KAYAK; an impressive accolade indeed!
New Year Fireworks, Events, Parties
The biggest party in town takes place at Downtown Dubai, where the crowds will welcome 2017 with a street party leading up to the spectacular midnight fireworks extravaganza. The event gets underway at 8pm and is free of charge. Most people will head for the area around the Burj Khalifa tower for the best views, or for a lucky few the At The Top outdoor observation deck will enjoy the most spectacular panoramic views available. The buildup to midnight takes place throughout the evening, with live music, performers and various entertainment on offer. There is also a spectacular laser and LED light display.
It does get very crowded around the Burj Khalifa though, so a lot of people choose to spend the evening at one of the hotels a little further out of town, where you can have a posh dinner, relaxing time and still get a good view of the fireworks in the distance. Popular choices for this option are the Park Hyatt Hotel and Al Naforrah at the Emirates Towers. Another possibility, especially for those on a tighter budget, is to head for one of Dubai's beaches such as Sunset Beach and Kite Beach and watch the fireworks for free surrounded by the locals in a friendly and convivial atmosphere. A good bar option to watch the fireworks from is Iris Dubai at The Oberoi, Sheikh Zayed Road.
The Hyatt Regency Dubai are holding a new year party, featuring live music and a fantastic food and drinks package worthy of such a fabulous 5 star venue - secure your tickets here.
The big party this year looks set to be at Atlantis The Palm with live music leading up to the massive midnight fireworks, which on NYE 2016 actually set a new world fireworks record, even bigger than the Sydney display, so well worth looking out for!
If you would like a taste in advance for what the new year celebrations in Dubai are all about then I recommend watching the blockbuster movie Happy New Year, starring Abhishek Bachchan, Deepika Padukone, Boman Irani and Vivaan Shah. The film is set in Dubai over the new year period, with several scenes actually shot at one of the biggest venues - Atlantis, The Palm.
Away from the main public events, if there is one thing Dubai is famous for it's the multitude of luxury hotels, and you'll have no problems at all finding a fantastic selection of parties to choose from - we'll provide a selection of our favourites nearer the time.
You won't need to worry about getting back to your accommodation from whichever party you do decide to go to ads the Dubai Metro stays open throughout the night, laying on extra trains to help cope with the crowds. The transport network is expected to cope with a massive 1 million passengers across new year's eve.
If you're looking for somewhere to dine before heading off to watch the fireworks then Dubai has a dizzying range of eateries to choose from, well over 5000 of them in total! It's difficult to pick only a few to recommend but top choices include Blue Jade, Sloane's, Armani Ristorante and Reflets by Pierre Gagnaire. Vegetarians and vegans are very well served here too, with Aadarsh, Sagneetha and Evergreen popular venues. See the full range of Dubai's culinary choices here. The Ivy Dubai also have a special new year evening planned, with fine dining and live music.
NYE Live Streaming, Webcams
Places to watch live online, including a live view of the Burj Khalifa and Jumeirah Beach:
Latest: With the event now an official attempt to enter the Guinness Book of Records, there will be a live stream of the fireworks available via Youtube:
Dubai new year fireworks live stream
New Years Eve Hotels
Dubai is world renowned for the quality and affordable luxury of it's hotel options, and the New Year period provides the perfect opportunity to pamper yourself with some of the luxury you might not normally splash out on. Top hotels include:
Atlantis The Palm
Amwaj Rotana, Jumeirah Beach
Burj al Arab
Grand Midwest Tower, Sheikh Zayed Road
Hilton Dubai Jumeirah
Indications are that the region's hotels will be exceptionally busy this year so we would highly recommend making your booking as soon as possible.
For reservations and online availability of the above hotels plus many more, check out local hotels here.
Reviews & Sharing
The content on this page is written and maintained by Martin Kerrigan. If you have found it useful then please feel free to share it with your friends and family. If you have any comments or events to add to this page please Contact us.