Budapest New Years Eve 2018
Fireworks, Events, Webcams, Parties, Hotels, Restaurants, Concerts
Budapest, Hungary, 31 December 2017, Midnight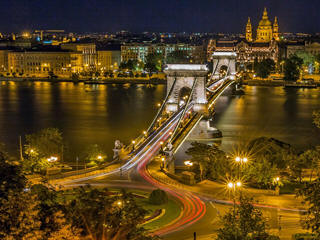 Budapest remains one of Europe's top destinations for New Years Eve celebrations, with the river Danube and iconic Chain Bridge providing a perfect backdrop to the spectacular fireworks displays that light up the city sky as the countdown to midnight welcomes the new year. It's also one of the more reasonably prices European capitals so you can spend some time there without breaking the back, with some luxury top end hotels of a standard that would be at home just about anywhere.
With a great range of dining options, party bars and nightclubs and top quality hotels for all budgets, Budapest offers a great place to see in 2018. As a popular flight hub with many of the most prominent budget airlines, getting to Budapest is relatively straightforward for European visitors in particular, making it an increasingly popular choice for the holiday season
2014 was the year we finally made our first visit to Budapest and although we weren't there for new year's eve we did visit in December and saw the city during the festive season, with the various Christmas markets a particular highlight. The views along the river and from Gellert Hill in particular were big highlights for us and would be fantastic places to watch the new year fireworks. We also found the locals to be exceptionally friendly and welcoming and would without a doubt recommend this as a top new year venue.
New Year Fireworks, Events, Parties
Szilveszter is the Hungarian term for New Year, and the party in Budapest centres on the iconic central Liszt Ferenc Square on Andrassy Avenue, a crowded street cafe scene, with a wide range of restaurants and busy bars, with the added benefit of proximity to the outdoor festivities on Nyugati ter and Oktogon.
On Vorosmarty Square new year's eve is the highlight of a three-day celebration that starts on the 30th December and continues right through to New Years Day. There is a further open air party in Eiffel Square, located at Nyugati Railway Station. There aren't any official municipal fireworks displays, but you should still get to see plenty of pyrotechnics come midnight from smaller private displays across the city.
The hills surrounding the city offer some great vantage points if you would prefer to avoid the crowds - head to the top of Gellert Hill for a spectacular panoramic view, or maybe try the Elisabeth Lookout on Janos Hill or maybe head up to the Fishermen's Bastion on Castle Hill.
For something a little different, the city's iconic Szechenyi Baths are hosting a New Year Bath Party, a truly unique party taking place to music in the hot thermal baths. This is a very popular event and sells out quickly so be quick if you wish to attend!
If you're looking for a spectacular hotel setting then Budapest has a number of top destinations, including a number of 4 and 5 star venues, many in excellent positions along the riverside. One venue that hosts a very popular new year's eve party is the Four Seasons, where an excellent meal is accompanied by plentiful champagne and live music - secure your reservation here.
With it's location astride the mighty Danube, then it's little surprise that many people choose to see in the new year onboard one of the city's many river cruises, where you can combine an evening of entertainment with a front row view of the fireworks.
There is also the option to combine a new year river cruise with a multi-centre holiday to some other venues.
If you're in town over the holiday period then it's a very good idea to also take the time to check out the Budapest Christmas Market on Vorosmarty ter, which starts at the end of November and runs right through until December 31st and includes live shows, locals produce and a great selection of gifts and arts and crafts.
If you're planning on being up and about on New Year's Day then Budapest has a long held tradition of New Year's Concerts, with several taking place across the city, probably most notably at the Palace of Arts and Budapest Opera House.
For dining options on new years eve and new years day then Budapest has pretty much all bases covered, with a range of eateries catering to all tastes and most budgets - top recommended venues include Trofea Grill Etterem, Onyx Restaurant and Borkonyha Wine Kitchen. This is a city where vegans are superbly catered for too, with Napfenyes Etterem very highly thought of - see the full range of Budapest restaurants here.
NYE Live Streaming, Webcams
Places to watch live online, including a live stream of the Chain Bridge:
New Years Eve Hotels
Budapest's holiday accommodation is among some of the most reasonably priced in Europe, especially for such a large, popular and cosmpolitan city. The hotel apartment blocks in particular offer excellent value, and with many of them being newly built the facilities are truly top class. For a huge range of affordable apartments and hotels with an online reservation facility, check out listings for local hotels here.
Popular Pages
The content on this page is written and maintained by Martin Kerrigan. If you have found it useful then please feel free to share it with your friends and family. If you have any comments or events to add to this page please Contact us.