Bondi New Years Eve 2018
Fireworks, Events, Parties, Hotels, Restaurants, Concerts
Bondi Beach, NSW, 31 December 2017, Midnight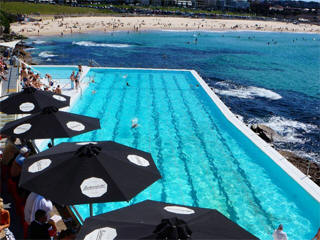 Bondi Beach until recent years was a famous new year's eve destination in it's own right, despite the proximity to Sydney and the huge new year fireworks display there, with a new year concert called Shore Thing on the beach front as well as their own fireworks display over the beach.
Sadly things have moved on over the last couple of years and there is no longer an official party or fireworks display, so if you're after pyrotechnics then you'll need to make the short trip to Sydney but if you do decide to stay put in Bondi there will still be more than enough to keep you occupied.
If you prefer somewhere a bit quieter than the big Sydney harbour party then another option well worth considering is to head over to Manly where there's some excellent new year events: Manly new year's eve
New Year Fireworks, Events, Parties
We were fortunate to be able to return Bondi in 2017 and the place still has the exceptional laid back vibe mixed with a party atmosphere that I remember from previous visits. I recommend taking a stroll down the coastal path to Coogee for spectacular ocean views, while spending time on the beach itself is a must - it will be packed at this time of year, but in Bondi that's part of the appeal.
One great place to check out for food and drinks in the Bondi Icebergs, where there is a great pool as well as a bar and restaurant at the RSL with truly spectacular views over the beach. The image on this page is one we took from the Icebergs - see the full range of events on their website here.
While there is no sign of any official fireworks display at Bondi beach this year. there is an event at Dudley Page Reserve, where you can get a direct view of the Sydney Harbour displays. Times can always change though, and if official fireworks do return to Bondi we will of course let you know.
You can keep up to date with what will be happening in the Bondi area to welcome new year 2018, which last year included a Light the Night charity event, here.
Whatever you decide to do as midnight approaches you're likely to want to fuel up in advance, so check out these listings of Bondi restaurants that are holding special new years eve events - I especially like the look of Atom Thai and the Indian Palace, there's always plenty of veggie options with the Asian cuisine. If you're looking for a quick vegan bite I can heartily recommend Funky Pies on Glenayr Avenue. You can see the full range of Bondi restaurants here:
NYE Live Streaming, Webcams
The Shore Thing has been webcast in the past so we'll bring you the link as and when it's available. In the meantime, there is a fantastic view of the whole beach from this webcam:
You can also check out a full range of live online coverage from new year fireworks and parties across Australia and around the world in our Live Streaming section.
New Years Eve Hotels
If you're planning on being in the Bondi area over the New Year period, then early reservation is strongly recommended, and be warned it's likely to be pricey so you may have to settle for a backpackers place rather than a posh hotel. You can search, check availability and book local hotels here.
Popular Pages
The content on this page is written and maintained by Martin Kerrigan. If you have found it useful then please feel free to share it with your friends and family. If you have any comments or events to add to this page please Contact us.