Sydney New Years Eve 2018
Fireworks Live Stream, Countdown Events, Webcams, Parties, Hotels
Sydney, NSW, 31 December 2017, Midnight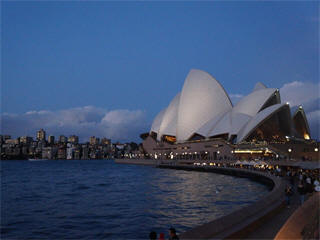 Very probably the single and most iconic New Years Eve fireworks anywhere in the world take place in Sydney, with the focus being the Harbour Bridge and Opera House.
As one of the first major cities to greet the new year, the rest of the world turns its eyes to Sydney first of all. I spent the most memorable new years eve of my life in Sydney and can personally recommend it as being without peer.
You need to get there early to secure a decent spot, the most popular areas around the Opera House and Circular Quay are the first to fill up. Mrs Macquaries Point is also very popular as a vantage point for the fireworks.
2017 was the year we finally returned to Sydney after a 20 year absence (the picture on this page is in fact one of our own) so I can confirm that the city is as thrilling and vibrant as ever, the perfect setting for a new year's eve party of a lifetime.
New Year Fireworks, Events, Parties
The iconic midnight fireworks event over Sydney Harbour is watched annually by more that 1.5 million spectators actually at the venue and by more than 1 billion viewers across the world via TV an internet. The official celebrations start from 5pm and festivities get bigger with the 9pm Family Fireworks preceding the main display at midnight. There is also this year an earlier light and fire show at 7pm, an extra incentive to arrive early!
There will this year be an official live stream webcast of the Sydney family fireworks and midnight fireworks available. The New Year 2013 was the first time this has happened in the event's history, and it has subsequently returned every year since, growing in popularity each time - see the streaming section below for the link.
Before and after the fireworks then the area around The Rocks is the place to be, although be aware the whole area will be absolutely rammed and specific bars will all be ticket-only (and the tickets for this night will not be cheap!) so make sure you plan well in advance, and allow plenty time to get where you're going, and to get served once you're in there!
There is also a big party this year at Pier One Sydney Harbour, equipped with a marquee right under the harbour bridge and combining great harbour views with drinking, dancing, dining and of course luxurious hotel rooms - get more details and tickets here.
If you don't want to get involved in the crowds around the harbour, Circular Quay and Opera House themselves, then there are some excellent vantage points to be had a little further afield - head over to the north shore for a more panoramic view, and you can avoid the public transport issues completely by viewing from just a short ferry ride across the harbour at Manly, which is a few miles away but still affords a decent view of the fireworks, especially if you wander up to North Head. Darling Harbour is also popular, but again fills up quickly.
Some harbourside viewing points are actually offered for sale by the National Parks service. You can secure a spot of the prime location of Clark Island for a whopping $400, while more reasonable prices can secure enviable views from Shark Island, Bradleys Head and Nielsen Park.
Another good idea for securing a front row view of the fireworks is to attend the NYE Harbour Party at Luna Park, perfectly located at the far end of the harbour bridge.
There is a also a premium event with spectacular fireworks views available from the Sydney Royal Botanic Gardens, who hold the Lawn with a View picnic style event on Bennelong Lawn, located right above the Opera House. Be aware this one is a pricey affair though, with tickets coming in at over $300.
One of the best possible views available is from the vantage point of the Sydney Tower Eye, with it's 360 degree observation deck and the famous SKYWALK. Tickets are available for both the 9pm and midnight fireworks displays - details to follow.
One way to guarantee your view is to watch from actually on the water. There are a few companies offer this opportunity, including the Sydney Showboats, where you can make a real evening of it with food, drink and live music before taking in the fireworks from one of the best vantage points possible.
The Harbour of Light Parade is an additional visual spectacle for all to enjoy in the lead-up to the fireworks displays, a parade of boats of various shapes and sizes being lit up before parading in convoy across the harbour.
For those of a more cultural leaning then it is actually possible to celebrate new year's eve at Sydney Opera House itself, where Opera Australia hosts a black tie dinner event, with live music, an exclusive party and of course some of the best possible views of the fireworks.
Other events in the area worth considering if you don't fancy the hectic new year party in the CBD can be found eith side of the harbour:
NYE Live Streaming, Webcams
The live streaming options for Sydney have become so extensive over the last few years that we have created a dedicated page listing all of the TV and online viewing options, including the official live stream (which this year will also be available via Facebook and Youtube, especially useful for watching on mobile devices) and all the top webcam views:
Sydney fireworks live streaming
New Years Eve Hotels
If you're planning on visiting Sydney over the New Year period, then early reservation is strongly recommend. You can search, check availability and book local hotels here.
AirBNB is another increasingly popular option for accommodation but again be aware that hosts very much tend to capitalise on the occasion and anything with even a partial fireworks view is going to command a substantial premium.
Popular Pages
The content on this page is written and maintained by Martin Kerrigan. If you have found it useful then please feel free to share it with your friends and family. If you have any comments or events to add to this page please Contact us.