Berlin New Years Eve 2017
Fireworks, Events, Webcams, Parties, Hotels, Restaurants, Concerts
Berlin, Germany, 31 December 2016, Midnight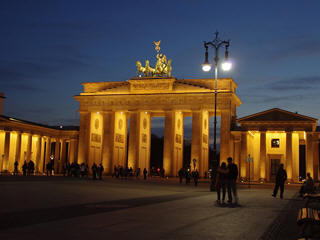 Berlin is duly proud of it's reputation for annually hosting one of the largest New Year's Eve celebrations in Europe, and probably the world. Also known locally as feast day of Saint Sylvester, the huge outdoor event is generally attended by well over one million people, who brave the cold and frequently highly inclement weather conditions to take to the streets for one huge party.
The focal point of the celebrations is the famous and iconic Brandenburg Gate, which stands sentinel over the architecturally dramatic city centre and uses this position of prominence well in holding the main midnight fireworks display.
It might not be a location you associate with a new years party but I'm reliably informed the reputation is well earned so it's firmly on the bucket list now and I look forward to finding out what it's really like for myself some time in the not too distant future, especially as they seem to be carving themselves something of a reputation as the vegan capital of Europe, with a range of restaurants and even dedicated supermarkets!
New Year Fireworks, Events, Parties
The official New Year's Eve Party in Berlin takes place along some of the city's most well known streets, the Strasse des 17 Juni between Brandenburger Tor and Siegessaule, running from the Brandenburg Gate to the Victory Column. There is live music, spectacular light shows and a range of entertainment throughout the evening, culminating in the fantastic midnight fireworks - over a million people typically attend so make sure you get there nice and early, especially as they do tend to shut the gates once the area is full, so make sure you don't miss out completely!
Away from the main party, there will be fireworks across the city lighting up the sky, including at The Fernsehturm TV tower at Alexanderplatz - this landmark is actually one of the tallest buildings in Europe, and boasts an observation platform located over 200 metres above the city, providing an excellent vantage point for fireworks viewing.
Potsdamer Platz is another popular and busy area of the city, with a wide range of hotels, bars and restaurants that tends to provide a focal point for gatherings earlier in the evening, before the main crowds start to head on down to the main street parties.
Berlin is another on the increasingly long list of global cities to join in the American tradition of the ball drop popularised in Times Square each year, and now holds it's very own New Year's Eve ball drop on Main street, preceded by a range of seasonal festivities, including live music, street dancing and horse drawn carriage rides.
For those looking for something a little more lively, Odyssee 2017 is an annual and expanding New Years Eve electronic music and arts festival at The old Kindl brewery Neukolln. A massive lineup of electronic music stars, performers and DJ's helps to bring in the new year in style.
Finding somewhere to eat out in Berlin on new year's eve won't be a problem, with a total of over 5000 eating establishments within the city area your biggest problem is choosing just one! Top recommendations include Vox Restaurant, Heising, Fassbender-Rausch, and for vegans, Momo and Viasko. See the full range here.
NYE Live Streaming, Webcams
Places to watch live online, including a spectacular live stream view from the Brandenburg Gate, where you'll get a grandstand view of the midnight fireworks:
New Years Eve Hotels
Accommodation in Berlin is plentiful and caters for a genuinely wide range of tastes, but on such a popular night as new year's eve it is always recommended to get your booking in as early as is practicable - click here for the best Berlin hotel deals.
Reviews & Sharing
The content on this page is written and maintained by Martin Kerrigan. If you have found it useful then please feel free to share it with your friends and family. If you have any comments or events to add to this page please Contact us.