Rio de Janeiro New Years Eve 2018
Fireworks, Events, Parties, Hotels, Restaurants, Concerts
Rio de Janeiro, Brazil, 31 December 2017, Midnight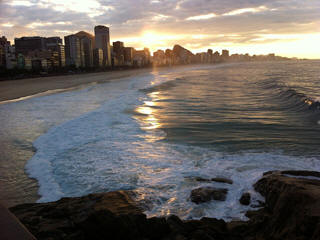 It has been a very big few years for Brazil, and Rio in particular, with the World Cup 2014 having been to the country and the Olympics in 2017.
There has been some controversy among the local population about the cost of hosting these large events and the lack of apparent long term benefits to the people living here, but at the very least these large scale occasions have helped to raise the international profile of the city and all the things it has to offer.
The New Year (Ano Novo in Portugeuse, or in Brazilian Portuguese, Reveillon), is one of the main holidays across the whole of Brazil and in Rio for many people involves heading down to the city's famous and iconic Copacabana beach, where crowds numbered literally in the millions gather to celebrate the occasion, making it easily one of the biggest new year's eve parties anywhere in the world.
New Year Fireworks, Events, Parties
The beach at Copacabana in Rio de Janeiro is the focal point of much of the celebrations with a large fireworks display at midnight that can be seen all along the coastline for miles around - the fireworks are launched from barges moored offshore.
The midnight fireworks display has traditionally lasted 16 minutes, but last year this has been reduced to just 12 minutes, another victim of the city's spending cuts, we'll wait to see if this is cut even further for new year 2018.
Head up to the higher ground for a truly spectacular panoramic view. The beach itself is over 4 miles long so can host a heck of a party, and it is estimated that around 2 million revellers congregate there each year, making it the largest free outdoor party anywhere in the world.
One of the top New Year's Eve parties in Rio de Janeiro is again set to be the Reveillon on Sugarloaf 2018. The party will feature music from local and international DJs, along with a fantastic buffet meal, plus of course plenty of champagne!
NYE Live Streaming, Webcams
Places to watch live online:
New Years Eve Hotels
If you're planning on visiting Rio over the New Year period, then early reservation is strongly recommended. You can search, check availability and book local hotels here.
Popular Pages
The content on this page is written and maintained by Martin Kerrigan. If you have found it useful then please feel free to share it with your friends and family. If you have any comments or events to add to this page please Contact us.