Niagara Falls New Years Eve 2016
Fireworks, Events, Webcams, Parties, Hotels, Restaurants, Concerts
Niagara Falls, Ontario, 31 December 2015, Midnight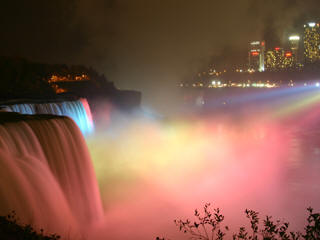 There aren't many venues where I'm not sure which country to include them in (well, to be perfectly honest, this is the only one so far!) but with Niagara Falls sitting right on the border between Canada and the United States this was a tricky choice. The Canadian side has the town of Niagara Falls, while on the US site, in New York State, there is the Niagara Falls State Park, so they both have a reasonable claim.
In the end, this being a new years eve site I've had to make the call based on who makes the biggest deal of their NYE events, and in this case the clear winner was the Canadians of Ontario, who have the Winter Festival of Lights as the centre point of their new year party, and as this event lasts almost 3 months in total right through the winter months I figured that had to give them the edge!
New Year Fireworks, Events, Parties
The biggest event in the area by far is the Niagara Falls New Years party in Victoria Park. This free public event gets underway at 7.30pm and provides live music and entertainment with the Niagara Falls New Year's concert taking place throughout the evening, leading up the huge fireworks display at midnight. A crowd of around 60,000 is expected in Queen Victoria Park for the event so make sure you get there in plenty time!
The headline performers at last year's event were Keith Urban, Nick Jonas, Lights, Nickelback and Shawn Mendes so you can see they generally attract some genuinely big names. We'll bring you this year's list as soon as we have it.
While new year parties in many other venues are cancelled or curtailed due to funding issues to has been confirmed that the Victoria Park party for NYE 2015-2016 is definitely safe, thanks to a total of $240,000 funding secured from the Ministry of Tourism, Culture and Sport's Celebrate Ontario fund and the Niagara Tourism Partnership.
For the fireworks, there is actually a smaller, family show at 8.45pm but the main event is reserved for the stroke of midnight, with launch points on the Skylon Tower, in the Niagara Gorge and actually above the falls themselves, about as spectacular a backdrop as you could wish for.
The bars and nightclubs of Niagara Falls also do their but to add to the range of parties on offer and top venues will be competing to draw the younger crowd - there are big nights this year at the Dragonfly Nightclub, Scotiabank Convention Centre, Blush Ultra Lounge, Coco Cobana and Club Se7en. Ticket details to follow.
If you're looking for new year dining options then there are plenty of restaurants to choose from on both the Ontario and New York side of the falls. Top recommendations include La Galera Mexican, Fortuna's, Casa Mia, Koutouki Greek Cuisine, Zaiki Indian (where there are plenty of veggie options) and Donatello's. See the full range of restaurants here for Ontario and New York.
NYE Live Streaming, Webcams
Places to watch live online: there are several live webcam views in Niagara falls which help take you live to the heart of the new year party. Our favourite by far is this fantastic live streaming view provided by EarthCam:
The new year's eve celebrations from Niagara falls are also broadcast live on TV by Global Live, and last year attracted a total viewing audience of almost 5 million, which shows the huge popularity of the event. Global do have an online viewing option:
Although you do need to have a subscription which unfortunately as far as I can see means this won't be available to viewers outside of Canada. We will double check this nearer the time though and if an international stream is available we'll post the link here too.
New Years Eve Hotels
If you're planning on visiting Niagara Falls over the New Year period, then be aware that is will be exceptionally busy so you need to make your reservations as early as you realistically can. You can search, check availability and book local hotels here.
Reviews & Sharing
The content on this page is written and maintained by Martin Kerrigan. If you have found it useful then please feel free to share it with your friends and family using the social media sharing tools below. If you have any comments or events to add to this page please Contact us.