Montreal New Years Eve 2018
Fireworks, Events, Parties, Hotels, Restaurants, Concerts
Montreal, Quebec, 31 December 2017, Midnight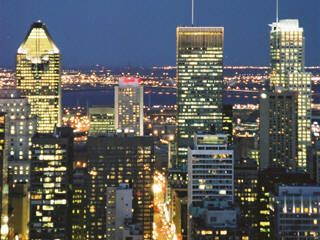 The Merry Montreal party is the highlight of the new year celebrations in this picturesque old city. The event includes a Christmas market, new year's eve countdown as well as special events, parties and festivities throughout December and right up until new year's day.
The city's famous Old Port is the focal point for the evening's festivities and crowds of locals and visitors alike head down there to enjoy the entertainment and see in the new year to the sight and sound of the fireworks display on the stroke of midnight.
New Year Fireworks, Events, Parties
The new year's party in Montreal this year promises to be one of the biggest in the city's history, with huge crowds wxpected to attend the event, which takes place at the Quai Jacques-Cartier in the Old Port of Montreal and is part of a month long Christmas and new year festival, Merry Montreal.
The Merry Montreal new year countdown party is a totally free public event that gets underway at 7pm, runs right through until 2am on new year's day and includes DJs and live music by Scott Helman, SonReal, Alex Nevsky, Bernard Adamus, Klo Pelgag and Louis-Jean Cormier.
The highlight of the party of course comes at midnight, with a spectacular fireworks display, sponsored once again this yeaer by Coca Cola.
The port of Montreal lies between the Saint Lawrence and Ottawa Rivers and at one end of the Saint Lawrence Seaway, which reaches from the Great Lakes into the Atlantic Ocean, and the areas along these waterways provide ideal viewing points for watching the midnight fireworks displays across the city skyline.
For the livelier crowd, in the city's many bars and nightclubs there are a huge range of parties and events to choose from. Among the top venues to look out for are:
-Club La Boom
-Jet Nightclub
-Club Entourage
-Intrigue IVY Nightclub
-Koi Lounge
-Rouge Nightclub
-Muzique Nightclub
-Roxbury New Year's Eve
For more information on all of these new year parties, plus ticket details and online sales, there is an excellent resource on the Montreal Nitelife site here.
For your new year dining options then Montreal has a huge range to choose from. French cuisine obviously features heavily, but most international choices are well represented. Recommended venues include Ristorante Cavalli, Restaurant Mozza Pates Et Passions Inc. and Chez Nick. See the full range of eateries here.
NYE Live Streaming, Webcams
Places to watch live online, including live views from across the city and at the Old Port:
New Years Eve Hotels
If you're planning on visiting Montreal over the New Year period, then early reservation is strongly recommended. You can search, check availability and book local hotels here.
Reviews & Sharing
The content on this page is written and maintained by Martin Kerrigan. If you have found it useful then please feel free to share it with your friends and family. If you have any comments or events to add to this page please Contact us.