Istanbul New Years Eve 2016
Fireworks, Events, Webcams, Parties, Hotels, Restaurants, Concerts
Istanbul, Turkey, 31 December 2015, Midnight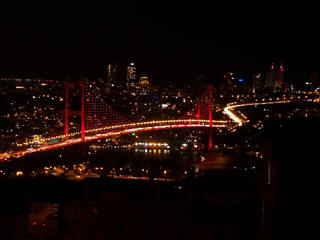 BY MARTIN KERRIGAN
Istanbul, as the capital city of Turkey is the focal point for the country's celebration of the New Year, and NYE 2016 will be no exception. With a dramatic setting at the mouth of the Bosphorus, the city of Istanbul provides a spectacular backdrop to some on the most spectacularly scenic fireworks displays anywhere in the world.
It's not necessarily a city you would associate with huge festivities for the new year, but the city certainly comes to life on this night. You have to remember Christmas isn't celebrated in this region, so perhaps they benefit from the relative lack of party-fatigue that affects some of the world's other major population centres. The Turkish people are very fond of pyrotechnics too, so and large scale fireworks displays will always see them out in numbers to enjoy the spectacle.
New Year Fireworks, Events, Parties
The New Year's Eve Party in Istanbul sees crowds gather in public places around the city, most notably in the city's iconic Taksim Square and along Istiklal Street, where there is a lively atmosphere throughout the evening, leading up to the fireworks at midnight which are launched form various points across the city, although the Bosphorus Bridge is a focal point, with the backdrop of the city skyline providing some great views and plenty of vantage points to choose from as the pyrotechnics can be seen for miles around.
Many people choose to celebrate with a special New Year's Eve dinner on a Bosphorus cruise, where the views from the water are among the best you can get, especially as they're guaranteed to be unobstructed! There are many companies offering this service, so plenty of choice.
Elsewhere in the city there are a range of parties to choose from. Among the most popular choices are the Gar Music Hall Restaurant & Turkish Night Show, the new year party at the Reina Club & Restaurant, the NYE party with folk music and dancing at the famous Galata Tower Restaurant and the New Year's Eve Gala at the 360 Restaurant & Night Club, which also secures you fantastic views across the city.
Aside from the official dinners there are a multitude of dining options to choose from in Istanbul, with the full range of international cuisines well represented. In fact, there are over 10,000 different dining options across the city so there really is something for everyone! Top recommended venues include Siva Cafe, Yesil Ev, Haci Baba, Aheste Restaurant Galata, Imbat and Fuego - see the full range of options here.
NYE Live Streaming, Webcams
Places to watch live online, including panoramic views across the Bosphorus:
New Years Eve Hotels
For hotels, bed and breakfast, apartments, hotels and guest houses in Istanbul for New Years Eve, visit and make reservations online for local hotels here.
Reviews & Sharing
If you have found the content on this page useful then please feel free to share it with your friends and family using the social media sharing tools below:
We're always interested in hearing comments and feedback from anyone who has attended these events, or if you have any information or updates that might be useful for us to add to the page then please Contact us or complete the feedback form below:
Other Popular Locations