Cape Town New Years Eve 2015
Fireworks, Events, Webcams, Parties, Hotels, Restaurants, Concerts
Cape Town, South Africa, 31 December 2014, Midnight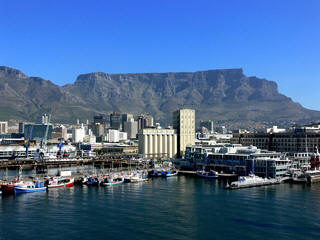 BY MARTIN KERRIGAN
When looking at the most popular global destinations for celebrating the new year in the southern hemisphere I wasn't surprised to see the major cities of Australia and New Zealand featuring heavily, but more so so see South Africa featuring so prominently, especially Cape town and Johannesburg.
I guess the location is a big help, and the fact that the weather will be decent makes it a good refuge for those looking for some summer sun to go with their new year's eve party, but when it comes to the festivities themselves then Cape Town puts on a pretty good show as well, and have firmly earned themselves a spot high up on my bucket list.
In particular a trip to the top of Table Mountain has to be an absolute must, whether by the cable car or by taking the more energetic option of climbing up, which I have to admit appeals to me a little more, I always think there's a lot more of a sense of achievement if you've had to make a big effort to reach the summit.
Fireworks, Events and Parties
The big party in Cape Town on NYE takes place at the city's famous Victoria and Albert Waterfront, more commonly known locally as the V & A. The iconic waterfront development includes a clock tower (convenient for the midnight countdown), fantastic harbour views, an observation wheel plus of course the fantastic backdrop of Table Mountain. Cape Town's most prominent feature. There will be live music of course as well.
As well as hosting fireworks over the harbour, the V&A Waterfront has a large promenade area for mixing and mingling with friends and family and a wide selection of bars and restaurants to fuel yourself for the evening's festivities, including those at the One&Only Cape Town resort which has big name eateries such as Reuben's, Nobu and the Table Bay Hotel.
Given the maritime setting it's not surprising that many people choose to take to the water for their new year party, giving the opportunity to secure the very best vantage points possible, with stunning views of the city shoreline and mountainous backdrop. Many local companies offer special NYE cruises, usually including dinner, music and champagne.
Another fabulous option is to actually take to the top of Table Mountain and get a panoramic view of the fireworks over the harbour - you can catch the cable car right to the top of the mountain for an absolutely fantastic viewing platform - just grab a bus or taxi to Kloof Nek, where the cable car leaves from.
One big party worth looking out for this year is Protea Hotel Fire & Ice! a street party with a tropical island beach theme which features several top live DJs, VIP areas, huge LED screen and confetti cannons for the midnight countdown - to book your tickets contact [email protected]
If you're in Cape Town over new year period then it makes sense to hang around for the 1st and 2nd January to attend the Cape Minstrel Carnival, where the carnival parade brings a cavalcade of music and dancing to the city centre area.
Live Streaming and Webcams
Places to watch live online - there are some fantastic live webcams around the Cape Town area, with several offering great views of the harbour and Table Mountain so you can watch the fireworks online:
Hotels and Accommodation
If you're planning on visiting Cape Town over the New Year period, then there is a plethora of hotels to choose from in a city that caters especially well to the luxury end of the market. It will be busy though, so early reservation is recommended. You can search for, check availability and make bookings for local hotels here.
Reviews & Sharing
If you have found the content on this page useful then please feel free to share it with your friends and family using the social media sharing tools below:
We're always interested in hearing comments and feedback from anyone who has attended these events, or if you have any information or updates that might be useful for us to add to the page then please Contact us or complete the feedback form below:
Other Popular Locations