Sydney Chinese New Year 2017
Events, Markets, Parties, Restaurants, Hotels
Sydney, NSW, Australia, 27 January - 10 February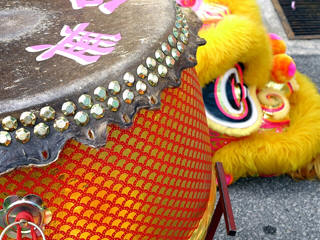 Being in Sydney for New Years Eve is way up there on most people's bucket lists and Chinese New Year also brings spectacular celebrations that should not be missed. Sydney hosts a fantastic Festival each year and 2017 will see the whole place geared up for the Year of the Rooster.

It's the middle of summer in Australia and a great time to get out and explore the pop up festivals, art installations and authentic Chinese art and dance that will be showcased across the city. Just remember your sunscreen!!
Event Schedule
Circular Quay will be illuminated with 12 large animal signs of the zodiac.

From the 27th January, for 3 nights, see some of Sydney's iconic landmarks bathed in red light to usher in the Lunar New Year. Landmarks include Sydney Opera House, Sydney Harbour Bridge, Town Hall, Circular Quay, Capitol Theatre, and the Rooster will be projected on the roof of the Australian National Maritime Museum.

From Friday 27 January – 10 February head to Dixon Street, Haymarket to explore Chinatown Markets and feast on some truly delicious cuisine. Dixon Street is also host to the Chinese Lion Dances on 8th, 14th, 15th, 21st, & 28th January and 5th February. All from 4pm brought to you by Dixon Street Chinese Committee.

Plus from 6pm and then 6.30pm (2 showings) there are even more Lion Dancers (brought to you from the City of Sydney) on Dixon Street, on Thursday 2nd and 9th February, Friday 27th January, 3rd and 10th February, Saturday 4th and 11th February, Sunday 5th and 12th February.

From Friday 27th January – Sunday 5th February, if you head to Pyrmont Bay Park in the afternoon Monday – Friday from 5pm and from 4pm on Saturday and Sunday, you will find yourself at the Sydney Morning Herald Lunar Market, an awesome pop up food festival where you can dine under the stars, enjoy live music and entertainment and immerse yourself in a real festival experience.

If you happen to be around Broadway Shopping Centre, Gelbe, on the 28th around 11.30am you'll see the Lion dance.

There's going to be a big celebration at Martin Place at the Westpac Lunar Lantern Hub on Friday 3rd and Saturday 4th February to celebrate the 21st anniversary of the festival and will include music, dance performances and lion dances all under the 50m canopy of red lanterns. Westpac Lunar Lantern Hub also has daily events on Fridays and Saturdays from 28th January – 11th February.

Head to Cockle Bay Wharf, Darling Harbour on Saturday 11th and Sunday 12th February for the fantastic Dragon Boat Races, from 8am – 5pm on Saturday and 9am – 3pm on Sunday.

Book your dinner reservation in advance for Chinese New Year to avoid any disappointment, try some of these fantastic restaurants:

Fortune Village Chinese Restaurant
China Doll
Mr Wong
Lotus Dumpling Bar
China Lane
Live Streaming, Webcams
Fantastic live webcam over Sydney and the Sydney Opera House, Harbour Bridge:
Hotels
Sydney is an amazing place to stay and will be busy at this time of year so book in advance to get the perfect room:

Shangri-La Hotel Sydney
Ovolo Woolloomooloo
Meriton Serviced Apartments World Tower
The Darling
Radisson Blu Plaza Hotel Sydney
You can search, check availability and book local hotels here.
Popular Pages
The content on this page is written and maintained by Yvonne Kerrigan. If you have found it useful then please feel free to share it with your friends and family. If you have any comments or events to add to this page please Contact us.